Glenda Clendenin, a stalwart in Moore County's election office for 35 years, has announced her intent to retire effective Sep. 24. A former precinct official, she was initially appointed to her role as Elections Director in 1986.
"I wanted to become part of the elections family," she explained, noting she answers to both the county's election board and Karen Brinson Bell, executive director of the North Carolina State Board of Elections.
The Moore County Board of Elections is composed of five members including two members from each major political party. The governor appoints the chair of each county board.
The Rev. Charles McKnight was named chairman of the local elections board by Gov. Roy Cooper. On July 20, he was sworn-in alongside fellow board members Martin Carpenter of Southern Pines; Richard Ashton of Pinehurst; Craig Kennedy of Robbins; and William Case of Pinehurst.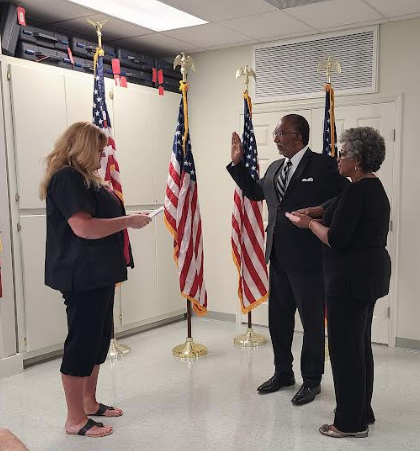 The local board will interview candidates for the Elections Director job and make their recommendation to the State Board of Elections. The final decision on Clendenin's replacement is in the hands of state officials.
Clendenin cited health concerns in her resignation letter. Two years ago she suffered a stroke and said that returning to work was part of her recovery efforts.
"But there comes a time and I feel that time has come," she told The Pilot this week.
A Moore County native, Clendenin is well-known for her talents outside the elections office including music, she's the choir director for West End United Methodist Church, and her culinary skills.
Some years back, disappointed by what county leaders were served at catered meetings, she began offering her own services.
"Cooking has always been a hobby of mine. I said to the county commissioners that I'd like to cook for you all. They've enjoyed it so much," recalling that her pound cake has been a particular favorite.