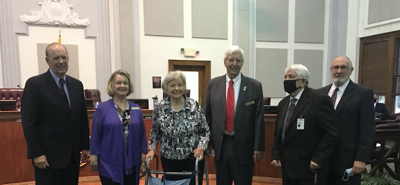 Elections Director Glenda Clendenin was commended for her exemplary service to the community for over 35 years by the Moore County Board of Commissioners on Tuesday. Clendenin announced her intent to retire earlier this year, her last day on the job is Friday, Sept. 24.
"The foundation of our Republic are fair and honest elections. If you don't have that you are in real trouble. Glenda, each and every day she came to work, brought that integrity," said County Chairman Frank Quis. "I think here in Moore County this is something we've taken for granted for 35 years. We don't have problems with elections here because of Glenda. We know the debate around the country is contentious about elections, but not here. That is because of one woman."
A native of Moore County, Clendenin was a precinct official when she was initially appointed to her role overseeing the Moore County Board of Elections office in 1986. During her tenure, the number of registered voters has grown from around 20,000 to over 72,000 individuals.
In a resolution read in her honor, Quis noted that Clendenin created a culture of political neutrality in her office and treated everyone with patience and dignity.
"She is irreplaceable. She will always be an important member of the Moore County family," Quis said.
Vice Chair Louis Gregory said there are few as respected as Clendenin.
"She is indeed an honorable person. She is one who I have turned to on many occasions for advice, knowing the advice I received would be exactly what is needed because it was always fair," Gregory said.
Commissioner Catherine Graham described Clendenin as the "most apolitical person" she's ever known, with a deep knowledge of the state election law.
"Republicans, Democrats, unaffiliated, we all got treated exactly the same. You follow the law with everyone. You are an honor to Moore County and it is such a personal privilege for me to call you a friend," she said.
A visibly emotional Commissioner Otis Ritter said it was like saying goodbye to a friend. He recalled to laughter through the room that it's been said, "don't try to get anything by that lady because it won't happen."
"Down at the polls, if you put up too many signs, Glenda will come: it's happened to me," Ritter said. "If everyone had the integrity this woman had, we wouldn't have had the election we had."
The State Board of Elections will get the final say on Clendenin's replacement but it's up to the local board to interview candidates and make its recommendation.
The Moore County elections director position is listed on the State Board of Elections website with applications accepted through Oct. 10. The role requires comprehensive knowledge of federal, state, and local citizenship and voting registration laws and regulations, knowledge of registration and voting procedures and of the maintenance and protection of voting registration lists and records, and the ability to plan, train, and supervise the work of others and the ability to develop training materials for precinct officials, among other tasks.