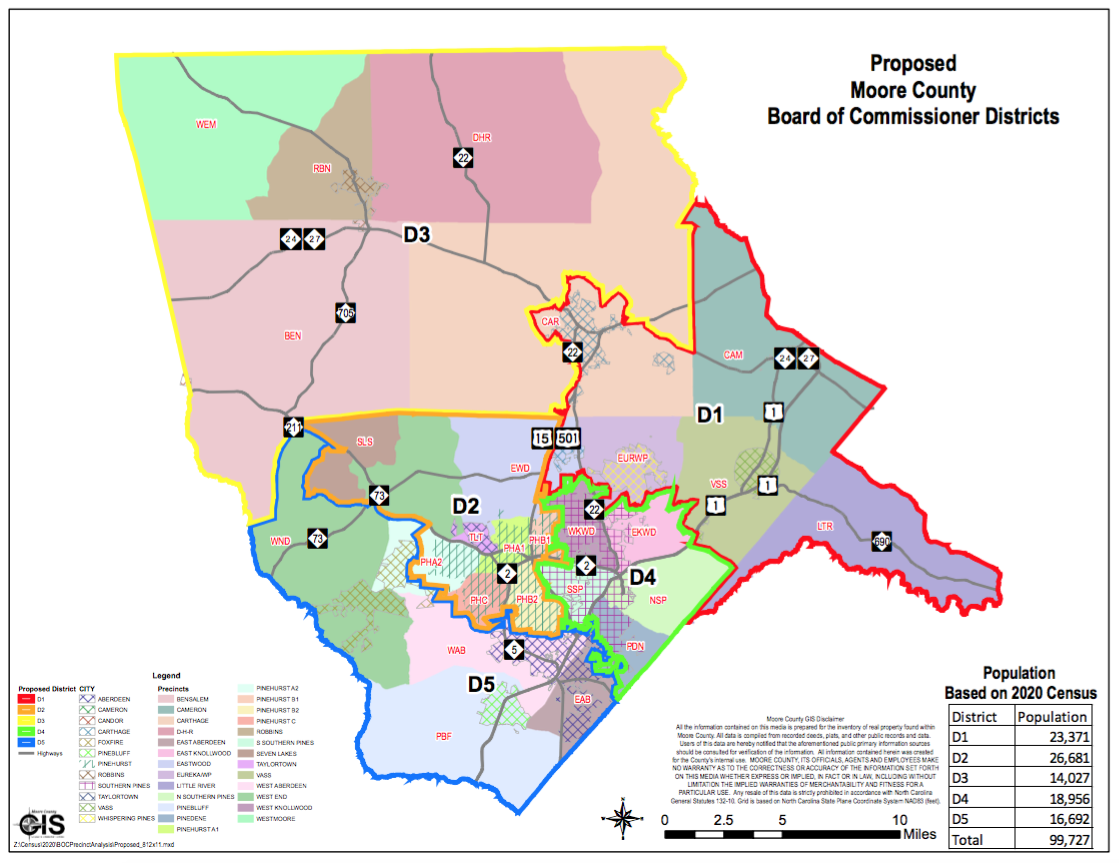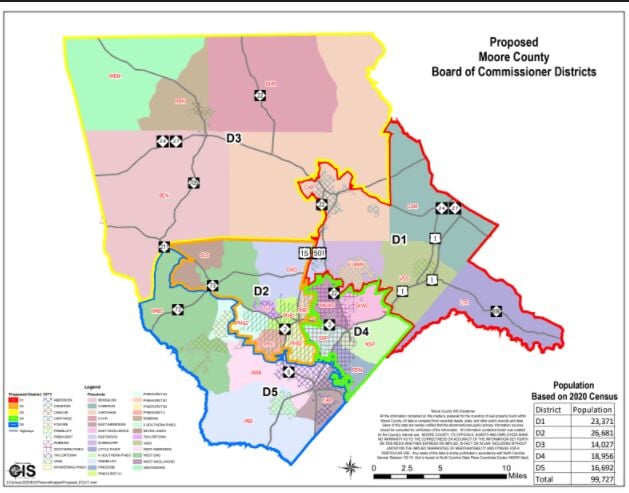 The Moore County Board of Commissioners unanimously approved a redistricting plan that divides the county's five residency districts into a more equitable distribution based on recently released census data.
Moore County's updated population count, according to the 2020 U.S. Census, stands at 99,727. The county is divided into five residency districts for elections to the county board, which is composed of five commissioners. Each commissioner must live in the election district they represent but all qualified voters in the county may vote for all five county commissioner members.
County leaders had anticipated a Nov. 17 deadline to approve any changes to the residency district boundaries as a result of the pandemic slowing down the release of census data.
The N.C. General Assembly enacted legislation earlier this year to provide additional time for redistricting resolutions; however, last week County Attorney Misty Leland discovered that information passed down from the State Board of Elections to local officials did not take into account residency districts. Accordingly, the state legislation for the extension did not apply.
Thus, Moore County was required to approve any changes to redistricting lines no less than 150 days prior to the next election. That pushed the deadline to Oct. 9. A public hearing is not required to make these changes but there was general consensus that the accelerated timeline was a less-than-ideal situation.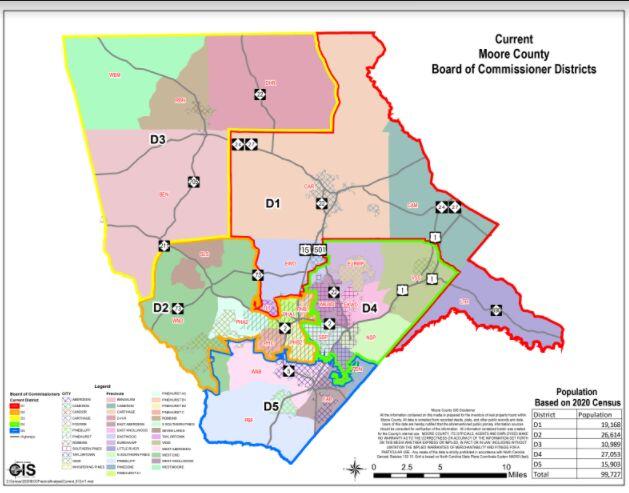 "Instead of an extra month, we had a few days to get this right. Thank goodness we have been working on this the last few weeks," County Chairman Frank Quis said, commending county staff.
As presented and approved, the new boundaries bring Carthage, Cameron, Whispering Pines and Vass within a single district, District I. It was noted these communities share several commonalities, including that public school children are all routed to Union Pines High School. Also, Carthage and Whispering Pines share the same zip code and a single post office.
Taylortown and the majority of the Eastwood precinct were shifted into District II, which also encompasses Pinehurst and the gated communities of Seven Lakes. District II is the largest district by population.
District III was expanded from 239 square miles to 341 square miles, and encompasses nearly all of the northern end of Moore County. But despite the broader area, District III continues to be the least populated district and is primarily farmland and smaller communities.
The redrawn map reflects the growing population of the southern end of Moore County. The redrawn lines bring all of Southern Pines into District IV.
District V represents the southernmost end of Moore County and encompasses Aberdeen, Pinebluff and reunites Foxfire into a single residency district.
Prior to voting on the redrawn maps, county leaders heard from resident John Misiaszek, who suggested that commissioners move away from the "at-large" system in which voters cast ballots for all five seats. Instead, he proposed they adopt a new format in which voters from each district would only vote for candidates in their respective district.
North Carolina law authorizes county commissioners to amend the voting procedure accordingly, if so desired.
"I suggest this change would result in a much more representative form of county government — one where the elected commissioner would be much more representative of, accessible to and answerable to those voters each commissioner will actually represent in county government," Misiaszek said.
None of the county commissioners directly addressed the suggestion during their discussion; however, following the meeting, Quis said the legislation was created to ensure that every community has representation.
"The residency district laws that we are organized under have been in place for a long time. They seem to work well, giving citizens throughout the county an opportunity to cast a vote for all of Moore County," Quis said.
"I think (the redrawn maps) are a good division, but it is not perfect. Given the short time frame, we did not have time to make major changes to procedure."
He noted that Moore County IT Director Chris Butts, GIS Director Rachel Patterson and County Attorney Leland had worked on several variations of maps prior to bringing the proposed changes before county leaders for their approval.
"I know a lot of work has gone by between our staff and attorney to make sure this is compliance with state law," agreed County Vice Chair Louis Gregory. "I know this is a difficult decision but I think we've made a good decision."