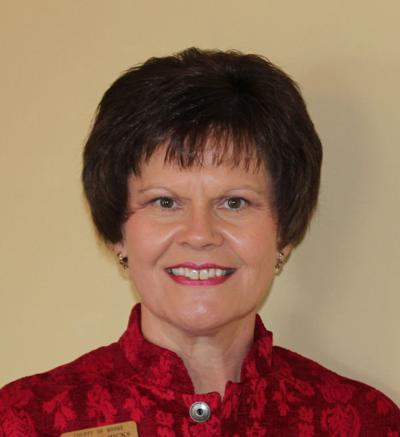 Susan Hicks will not seek reelection to a fourth-term as Moore County Clerk of Court, she announced Tuesday. Her pending retirement after 12 years in office will be effective Dec. 5, 2022.
"I've been truly blessed. I am one of the lucky ones who never had to work a day in my life because I loved my job. This is the hardest decision I've ever had to make. But the time always comes, and I feel that," Hicks said.
A Republican from Cameron, Hicks began her 38-year career in Randolph County before joining the Moore County Clerk of Court office in 2006. Hicks holds associate degrees in both Office Systems Technology and Business Administration. In 2009, she was appointed clerk, succeeding Catherine Graham who retired mid-term after serving in the role for 15 years. Graham went on to later run for the Board of Commissioners, on which she is still a member.
Hicks won her first election to a four-year term as Clerk of Superior Court of Moore County in 2010, then again in 2014 when she defeated challenger Doyle Markham. More recently she ran unopposed for a third-term in 2018.
"I plan to finish out this term, I have no desire to leave any sooner," Hicks said. "My main goal is, and will be until the day I walk out of the office, to give people their day in court, to make sure they feel like they were heard. I have to apply the law, that is my job, and this has worked very well for me."
Looking ahead to the open filing period in December, Hicks said she did not want to wait until the last minute to announce her decision to retire.
The Moore County Clerk's Office has maintained the long-standing reputation as one of the top clerk's offices in the state. Having progressed from typewriter and carbon paper days to the computer and printer age, including now e-filing, and going "paperless," Hicks said it was her desire to leave in place "a system and a core team of people who can easily adapt to the rigors of a growing county, challenging times, and continued progress we are sure to face in the future."
In her resignation notice, Hicks said her decision to not seek reelection comes with "some sadness as I will no doubt miss all the wonderful people and relations with which I have been deeply blessed. I also must confess that I have a real sense of joy in that I know that the time has come, as it always does, to pass the torch to the next generation, and I am looking forward to starting my next chapter."
Hicks is one of several local, high profile and long-serving county officials to announce their retirement this year.
Robert Wittmann, the longest-serving health director in Moore County history, announced his retirement during Monday's meeting of the Moore County Board of Health. His last day will be Dec. 31.
In addition, Elections Director Glenda Clendenin retired Sept. 24, after 35 years of exemplary service to the community.
Pat Corso, Moore County's lead economic development officer and executive director of Partners in Progress (PIP) since 2011, retired at the end of May. Corso had previously spent 17 years as president and CEO of Pinehurst Resort, and was a founding member of PIP.