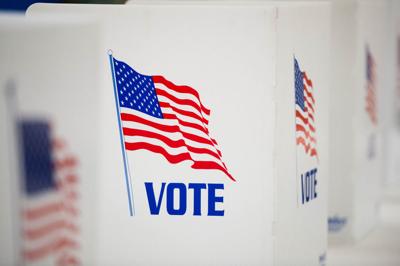 One stop voting for the municipal election is set to begin Thursday and runs through Oct. 30, for voters in Aberdeen, Carthage, Pinebluff, Pinehurst, Southern Pines, Taylortown, Vass and Whispering Pines. Town charters governing Cameron, Foxfire Village and Robbins do not allow absentee voting.
Ballots may be cast at the Moore County Agriculture Center, 707 Pinehurst Ave. in Carthage. Hours are Monday through Friday, 8 a.m. to 5 p.m, and Saturdays, Oct. 23 and Oct. 30, 8 a.m. to 3 p.m.
On Election Day, Nov. 2, registered voters must go to their assigned polling place. Call the Board of Elections office at (910) 947-3868 if you need assistance.
In North Carolina, absentee voting is broadly divided into three categories: absentee-by-mail voting, military and overseas citizens voting, and absentee one-stop voting. These processes are all considered absentee, because the voting takes place away from the traditional Election Day precincts.
During the early voting period, registered voters may change their name or address at a one stop location Also, unregistered citizens may register and vote at a one stop location.
There are 37 municipal seats up for election in November. Sample ballots are available online at www.moorecountync.gov/board-of-elections:
* Aberdeen: Mayor Robbie Farrell is running for re-election for a four-year term in the mayoral seat. He is unopposed. Also on the ballot, Daniel Behnke, Timothy Helms, Wilma Laney and Tim Marcham are seeking one of two open commissioner seats. The seats have four-year terms.
* Cameron: Jim Leiby and Tasherra Nichols have filed for the mayoral seat (four-year term,) and John Frutchey and Kane Parsons have filed for one of the two commissioner (four-year term) seats. David Seiberling is seeking one of two unexpired (two-year term) commissioner seats.
* Carthage: Patty Kempton, Kevin Lewis, John McDonald, Anton Sadovnikov, Brent Tanner and former Commissioner George Wilson Jr. have filed for one of three open commissioner seats (four-year term.)
* Foxfire: Paul Canup, Jason Daily, George Hedrick, Richard Kight, Ernestine Maccari, Janet Nauman, Donald Nelson, Mike Ratkowksi, Kevin Robbins and Gary Samuels have filed for one of three Council member seats (four-year term;) and Nancy Certain and Janice Gregorich have filed for the unexpired Council member seat (two-year term.)
* Pinebluff: Ronald L. McDonald and Patrick Neligan have filed for the mayoral seat (four-year term.) Robbie Conley, Robert Esselman, Michael Ough and Jerry Williams have filed for the two commissioner seats (four-year term.)
* Pinehurst: Kevin Drum, Jeff Morgan, Patrick Pizzella and Emily Stack have filed for one of two council seats (four-year term.)
* Robbins: Cameron Dockery and Neil Johnson have filed for the unexpired mayoral seat (two-year term.) Jody Lee Britt, former mayor Lonnie English, Terri Holt and Benjamin Reynolds Jr. have filed for one of three commissioner seats (four-year term.)
* Southern Pines: Taylor Clement, Brandon Goodman, Ann Petersen and Mike Saulnier have filed for one of two council seats (four-year term.)
* Taylortown: Garry Brown, Mary Cagle, Bridget Cotton, Sidney Gaddy, David Levine, Nadine Moody, Mitchell Ratliff, Marvin Taylor and Mayor James Lattimore Thompson have filed for one of five council seats (two-year term.)
* Vass: George Blackwell Jr., Eddie Callahan and Angela Vacek have filed for the mayoral seat (two-year term.) Rona Kellis, Kris Kosem, Todd McLeod, Emily Oldham, Christine Phipps and T.J. Watson have filed for one of two commissioner seats (four-year term.)
* Whispering Pines: Richard Casey, Andy Conway, Pamela Harris, Dean Kalles and Linda Vandercook have filed for one of three council seats (four-year term.)