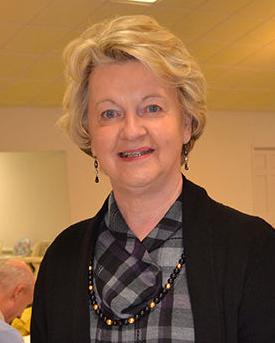 County Commissioner Catherine Graham will not seek re-election in 2022. She plans to serve out her current term representing District I before stepping down next November.
A former clerk of court and Carthage town commissioner, Graham was first elected to the board in 2014 and ran unopposed in 2018. She is only the fourth woman in Moore County to serve on the county board and made history, in 2016, as the first woman elected county chairman.
She has also chaired the Courthouse Facilities Advisory Committee, and serves on the Social Services Board, Facilities Task Force, Budget Task Force, Juvenile Crime Prevention Council, and Sandhills Center Board of Directors. She also previously served on the Board of Trustees for Sandhills Community College and served on the Moore County Schools Facilities Task Force.
"At the end of my term, I will have served Moore County citizens for 26 years," she said. "The bottom line is, I'm most thankful for the citizens of Moore County and for our staff here in Moore County. Without question, they excel at their duties to all of Moore County."
During her years of service, Graham said there were a "few things" she tried to stick by including seeking wisdom and offering thanks to God for allowing her to serve, to not seek personal honor, and remember that she was a servant of God and of the people. She also spoke of always trying to apply good and sufficient knowledge to any decision she had to make.
"And my most frequent advice, "the least said the best," she said, with a chuckle.
Vice Chair Louis Gregory said he would miss her counsel and advice, and thanked Graham for always serving with dignity.
"Catherine has always exhibited the very best in what needs to be said with professionalism, integrity and character. Those things we all aspire to, including myself," Gregory said. "It has been a pleasure and privilege to serve with someone with your experience. This board and staff looked to you for that wisdom and experience you brought, but also the integrity you have. It is part of you. Integrity is such a quality."
The District III and District V seats currently held by Commissioners Otis Ritter and Jerry Daeke, respectively, are also up for election in 2022. Neither Ritter or Daeke have officially announced whether they intend to run.