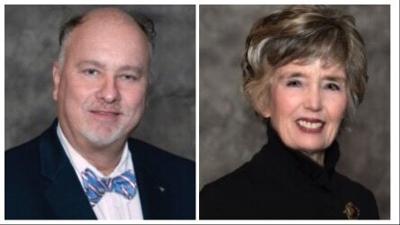 Pinehurst Village Council members Lydia Boesch and Kevin Drum are facing potential censure by the rest of the council for separate, unrelated violations of the board's internal ethics guidelines.
At the center of the accusations:
• Boesch's clandestine meeting with Pinehurst's police chief last month, where she pressed him for his opinion of Village Manager Jeff Sanborn.
• A string of emails between Drum and the president of Pinehurst Business Partners that began as a difference of opinion over the organization's scope of activities but devolved into a personal attack.
Village Council members discussed both incidents in open session last week. State law allows an elected board to discuss personnel issues involving employees privately, but elected officials are not subject to that provision. Indeed, the law declares a board "may not consider the qualifications, competence, performance, character, fitness, appointment or removal" of a board member privately. As such, the ethics discussion in Pinehurst was public.
Village attorney Mike Newman referred to statements submitted by Pinehurst Business Partners President Katrin Franklin and member Jim Nash, as well as copies of emails between them and Drum. Police Chief Glen Webb and Pinehurst human resources director Angie Kantor submitted statements recounting their interactions with Boesch.
The Pilot has obtained those statements, and the email chain between Drum and Pinehurst Business Partners, through a public records request to the village.
Mayor John Strickland said that the Village Council's code of ethics forbids individual council members from acting in an official capacity without authorization of the full council, and from investigating Pinehurst employees outside of established policies. Those rules also specify that council members should behave as though they're "on duty" in any situation, regardless of whether or not they're formally representing the village.
"During the last several days, I've become increasingly aware that village staff and members of the public are confused and concerned about two issues which involve members of the Village Council, and therefore the integrity of the Village Council itself," Strickland said.
"We have some information that's floating around and it needs to be dealt with in a public way because there's considerable issues here."
The Village Council did not act to reprimand either Boesch or Drum last week, but the issue is not done. Discussion of both matters is expected during the council's Oct. 26 meeting. But that didn't stop Councilmember Jane Hogeman from reading a motion reprimanding Boesch. It failed to receive a "second" amidst protests from Boesch and Drum. Both stated repeatedly throughout the meeting that they were unprepared to be accused of ethics violations in open session. Both believed the matter was going to be discussed in a closed session out of the public view.
"I think it's blindsiding," Drum said.
Complaint Against Boesch
Webb said in his statement that he met with Boesch — at her request — on Sept. 9 near the lake in the Pinewild Country Club community, where Boesch lives. Boesch opened the discussion with questions about the Village Council's ongoing revisions to Pinehurst's tree buffering ordinance.
Boesch has been the council's most outspoken critic against the proposed changes. The state prevents municipalities from enacting tree preservation ordinances without a local bill, but Pinehurst's staff is striving to work within the village's purview to set landscape buffering standards.
"It was also mentioned by the council member that there may have been some friction between the manager and our local delegation to the General Assembly," Webb wrote.
Per Webb's version of events, Boesch then asked him about the working environment at Village Hall and the reasons behind the departure of the prior police chief and another administrative staff member.
After the meeting, Webb wrote that he was "uneasy being asked what were essentially performance related questions about my supervisor and that, all of it being non-criminal, was outside my purview as a police officer."
He reported the meeting to Angie Kantor, the village's human resources director, a few days later on Sept. 13. In her statement, Kantor recalls that she advised Webb to notify Sanborn. Kantor then called Boesch to relay that information to her on Sept. 16.
Though Boesch strenuously objected to Newman's presentation of Webb's and Kantor's statements, she did not directly challenge the events they described beyond calling them "inaccurate" and "one-sided."
"I am not saying Angie's wrong, I am not saying Glen is wrong, I'm just saying that is one side of the story," she said.
Boesch requested time to craft her own statement and ask Webb and Kantor to review it before the council moves to vote on any reprimand. Strickland said that there were no apparent inconsistencies between those statements and Boesch's own, but suggested that Boesch had the floor to share her perspective then and there.
"The ripple effect since this whole issue began to be known — the ripple effect out in the public, whom I've heard from, and from the staff — is not good. It has created an image of the village manager which is not correct, which has not been substantiated by any of the information that you've supplied or that others have given to us," Strickland said to Boesch during last week's meeting.
"So, difficult as it may be, those are the facts we're dealing with and I think you have in your mind all the recollection that you would want to put in a statement to us, and I would be very happy to hear all those right now."
"I cannot believe you're asking me to sit here and give my side of the conversation with Angie and the conversation with Glen and give a full and accurate report on that," Boesch replied.
In her nearest attempt to explain the meeting on her own terms, she characterized it as an attempt to clarify rumors.
"Everyday, people in this village come talk to me, but I'm also learning that people say things to you that represent multiple levels of hearsay," said Boesch. "So when I hear something, I can't always accept it as true."
Councilmember Judy Davis said that Boesch's actions circumvented the village's personnel policies and gave the appearance of an official action without knowledge of the other council members.
"You really acted completely as a maverick just going out there on your own and talking to the police chief, who normally deals with criminal activities," said Davis. "It definitely is not something we want to commend."
Hogeman agreed that Boesch's decision to meet with Webb and inquire about Sanborn's leadership could damage the Village Council's credibility, namely with the village's own staff.
"I can't imagine a reasonable person thinking that if you had heard something serious about the village manager that what you ought to do is meet the police chief outside the office somewhere and have a private conversation with him about it," she said.
Strickland also reiterated the need for the council to publicly repudiate Boesch's approach and recommit itself to a more orthodox management style.
"We need to establish the fact that the village manager reports to the Village Council, the Village Council provides the village manager with his annual review, and the village manager in turn runs reviews throughout the organization," he said. "All through that process, integrity and policy and code of ethics is extraordinarily important to follow."
Complaint Against Drum
Kevin Drum's dispute with Katrin Franklin of Pinehurst Business Partners is tied to the upcoming Village Council elections, in which he is running for a second term.
On Sept. 16, Franklin shared with the organization's email network a newsletter from village business owner Jim Nash promoting a meet-and-greet with Patrick Pizzella, one of the three other candidates for office, at Duneberry Resort Wear, a business Nash owns in the village.
Drum, who owns the Drum and Quill tavern in the village, responded soon after. Apparently surprised to see the organization promoting a political event, he expressed the expectation that all candidates would receive the same courtesy.
Franklin responded that she would inform the group of anything Drum had planned at his downtown pub or in his own campaign.
A week later, on Sept, 22, Drum sent Nash an error-riddled email message "trying to get an answer."
"I am so confused on what this is? I want to attend all Pinehurst Busiess Partners meetings but not interested in attended a trade organization fundraiser for a candidate."
Franklin replied, reiterating that it's her policy to share all newsletters from member businesses and extending another invitation for Drum to take advantage of that.
On the same day, Franklin shared an email newsletter featuring an upcoming performance by Pinehurst Business Partners treasurer Rae Anne Kinney's band. Within minutes, Drum was calling for Franklin to step down from her office, according to emails shared as part of the complaint.
"Now your promoting bands? Are you lost? Your the president of a member marketing association?" he wrote.
In a second email a minute later: "Your are promoting bands of laying in southern pines? This is nits! You need to resign!"
Drum also declined Franklin's invitation to share his own political events, saying he doesn't think that the organization should be involved in promoting candidates at all. In the process, he called her "clueless" in two separate emails and said he no longer wished to renew his membership in the organization "with such a hateful person running" it.
"When Kevin Drum did not receive a response from me that was to his liking, despite my time and effort to be kind and informative, he emailed or phoned other members of the board or neighboring member businesses, often late at night, to question and harass them, seemingly in hopes of escalating the issue to reflect his mission to 'take over' the board," Franklin wrote in her statement.
A few weeks later, on Oct. 3, Franklin attempted to smooth things over after being informed by another Business Partners member that Drum had a change of heart and decided to rejoin after all. In his response, Drum reiterated his hope that she would resign. He also accused her of conducting a "massive whine fest" over limited parking in the village center and of intentionally suggesting ineffective solutions.
Franklin then approached Strickland and village staff, according to her statement.
Nash, who hosted the meet-and-greet that was originally promoted, also offered his interpretation of the email exchanges in a statement to the village.
"Because I was copied on correspondence which my name or business name was used, I am privy to most of the abuse heaped in (sic) Katrin by Kevin Drum," he said.
"I am personally appalled at the repeated bullying, threats, abuse and name calling as-well-as calling for her resignation as President of PBP – this is unconscionable behavior for any Village merchant to another merchant, let alone coming from a VOP Council member."
After Newman summarized those statements last week, Drum said that he didn't consider the Village Council's code of ethics when he spoke from the perspective of a business owner. He then apologized and said that he "might have overstepped."
"I did not think me being a bulldog businessman broke the village code of ethics, but after reading it, I agree," he said. "I think I need to be more professional and the way I'm successful in business is to charge through the rice paddies and get the work done."
Davis took issue with what she described as the angry, disrespectful tone of Drum's emails, but said that she appreciated his reaction to criticism.
"I appreciate you taking responsibility … although in today's modern society it's really hard to think that you could compartmentalize yourself like that," she said.
"We have a number of people in the NFL that tried to compartmentalize themselves that are out of jobs and looking pretty shaky in their jobs, so I think it's all around us and it's not unreasonable for us to expect that you would understand that you're always on duty and always being perceived that way."