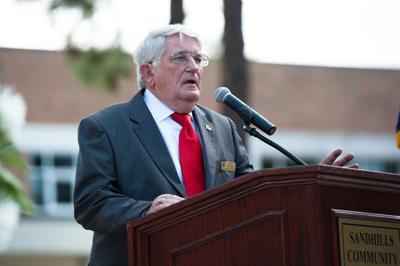 County Commissioner Otis Ritter, who has represented northern Moore County on the board for almost 10 years, will not seek re-election next year, opening the way for a new commissioner.
A native and lifelong resident of the Robbins area, Ritter was first appointed to the county board in 2013 to replace Craig Kennedy. Ritter then won election to the District 3 seat the following year, defeating Louis Gregory in a GOP primary. He was re-elected to a second full term in 2018.
Ritter has served as vice chairman of the board, on the Local Emergency Planning Committee, the Fire Commission, the Sandhills Center Area Board, the Nursing and Adult Care Home Community Advisory Committee, and the Utilities Task Force.
He previously served 20 years as chairman of the former county Emergency Services Advisory Committee, which was replaced several years ago by the county Fire Commission, and was a longtime volunteer for the Robbins and High Falls rescue squads.
"I wish I was 18 years old so I could continue to do this," Ritter said during Tuesday's meeting, joking that he is not going away quietly. "You will not get rid of me."
Ritter, the current board's longest serving member, became emotional in thanking county staff for their support and work toward bettering the community. "You have made it so easy for us to move forward."
The District 1, District 3 and District 5 seats are up for election in 2022. Commissioner Catherine Graham (District 1) is also not seeking re-election. Commissioner Jerry Daeke (District 5) has not announced his intentions. Each commissioner must live in the district they represent but are elected by voters countywide.
In early October, the county board approved a redrawn residency district map based on updated 2020 census data. As presented, District 1 brings Carthage, Cameron, Whispering Pines and Vass within a single, unified district. District 2 represents Pinehurst, Seven Lakes, Taylortown and the majority of the Eastwood precinct. District 3 encompasses nearly all of the northern end of Moore County. While the redrawn lines expanded the territory from 239 square miles to 341 square miles, it is still the least populated district. District 4 brings all of Southern Pines into a single district. District 5 represents the southernmost end of Moore County and encompasses Aberdeen, Pinebluff and reunites Foxfire into a single residency district.
EMS Partners on Study
The odds of surviving cardiac arrest outside of a hospital have not substantially improved over the last 30 years. Here in Moore County, approximately 125 people each year experience such an event.
"We rank in the top of our category on good (outcomes)," Public Safety Director Bryan Phillips told county leaders on Tuesday.
Phillips endorsed a contract between Duke University and the county's Emergency Medical Services to partner on a seven-year research study to evaluate community and local health system intervention aimed to improve out-of-hospital cardiac arrest outcomes.
A recent pilot study conducted by Duke University found a combination of early bystander CPR or first-responder defibrillation is associated with a two- to three-fold higher rate of patient survival. Treatment within the first two minutes of cardiac arrest was particularly effective, with a 59 percent survival, compared with 13 percent for those treated after 10 minutes.
Phillips said Moore County's survival rate for out-of-hospital cardiac arrest exceeds both the state and national average. He also noted that only patients and their families who volunteer for the study will be evaluated as part of the Duke University Randomized Cluster Evaluation of Cardiac Arrest Systems study.
In the late 2000s, more than 300 AED machines were installed at various locations around Moore County, including schools, churches and public facilities, as part of the HeartSafe Initiative. Moore County EMS maintains a county-wide list of all AED locations.
To ask about AED registration, getting one of these machines in your building, or to check whether your device is working properly, email Brooks at sbrooks@moorecountync.org.
In other action Tuesday, the Moore County Board of Commissioners:
Sitting as East Moore Water District Board of Directors, approved: minutes, Deed of Dedication for Brookwood Phase 2 East and Ingleside, EMWD Phase 4 reconciling change order # 3
Recognized and adopted resolution in honor of George Little, national college Trustee of the Year
Proclaimed November as Adoption Awareness Month
Received presentation regarding land swap and upset bid process opportunities for Solid Waste
Endorsed proposal to establish a Registered Environmental Health Technician position at the State level
Approved sole source purchase agreement with Zoll Medical Corporation
Approved purchase contract with Northwestern Emergency Vehicle for a new ambulance
Reappointed Loretta Jacobs to the Aging Advisory Council
Appointed Tucker McKenzie and Farrah Pulliam to the Planning Board