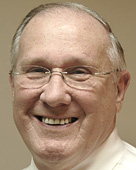 County Commissioner Jerry Daeke announced Monday he will not seek re-election next year. He is the third longstanding county board member to announce his intent to step down at the end of his second term, clearing the way for voters to seat a newly constituted majority next November.
Daeke, who served eight years on the Southern Pines Town Council, and was a member and chairman of the county's Board of Equalization and Review for a number of years, said he has always believed strongly that elected officials should serve no more than eight years.
"The citizens of Moore County are very fortunate to have the staff we do running this county. I can not say anything greater. They are efficient and congenial, they just go out of their way to do what is best for this county…I appreciate all the support from the citizens and employees of the county."
A native of Southern Pines, Daeke served on the town's council during the late 1970s and the late '80s. Professionally, Daeke worked as building inspector and planning director in Banner Elk for several years before going to work in land development and as a general contractor, before opening Daeke and Associates, a real estate and appraisal business in Moore County.
He was initially elected to the county board in 2014, taking the seat of retiring county commissioner Jimmy Melton who'd encouraged Daeke to run.
In early October, the county commissioners approved a redrawn residency district map based on updated 2020 census data. The District 5 seat will represent the southernmost end of Moore County and encompasses Aberdeen, Pinebluff and reunites Foxfire into a single residency district. Southern Pines is entirely within the newly drawn District 4 boundaries.
In 2022, District 1, District 3 and District 5 seats are up for election with longtime members Commissioner Catherine Graham (District 1), Commissioner Otis Ritter (District 3) and Commissioner Jerry Daeke (District 5) not seeking re-election.
Potential candidates for county commissioner must live in the district they represent but are elected by voters countywide.
The open filing period for the 2022 election opened Monday and runs through Dec. 17 at noon. Two candidates, Jim Von Canon and John Ritter, have already filed their intent to for the District 1 and District 3 seats, respectively.