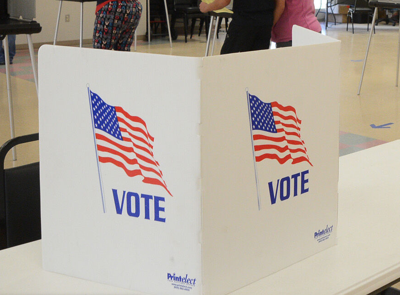 Candidate filing for 2022 elections resumed on Thursday, almost three months after it was halted to allow for lawsuits that challenged redrawn Congressional and legislative districts.
The case was, mostly, resolved last Wednesday when a special panel of judges approved new General Assembly districts and ordered a new map for the state's 14 congressional districts.
Candidates have until Friday, March 4 to file for Congress, state and county offices. Candidates who already filed in December don't need to do so again as long as they're running for the same office. Indeed, the majority of candidates filing for election in the county did so in December.
Partisan primaries will be held May 17.
As far as state races go, State Sen. Tom McInnis, currently representing District 25, filed for election in December to run for the newly drawn District 21 seat. McInnis previously lived in Richmond County near Ellerbe, but moved to a home in Pinehurst so he could keep Moore County as his district under the new maps. The maps upheld by the judge panel keep Moore County in District 21, so McInnis will not need to refile.
Under the new maps, Moore County is divided into three different state house districts. Rep. Jamie Boles, whose House district now includes much of Moore County, is competing against Rep. Ben Moss. Moss currently represents parts of Montgomery, Richmond and Stanly counties. Both men are competing for the District 52 seat, which includes all of Richmond County and the southeastern half of Moore County.
Neal Jackson is running to represent District 78, which includes the western half of the county. A Pinehurst native, Jackson decided to run after Rep. Allen McNeil announced he was not running for reelection for the 78th district.
John Sauls, of Sanford, is running for the District 51 seat, which encompasses the northeastern part of Moore. He currently represents Harnett and Lee counties.
One of the biggest electoral changes deals with the new congressional districts. Moore County, which had been cut almost in half and shared between Districts 8 and 9, has been returned, in whole, to District 9.
Three candidates, one of whom is very familiar to Moore voters, have announced plans to run for the District 9 seat.
U.S. Rep. Richard Hudson, whose District 8 seat once included all of Moore before the cleaving, announced he will seek the District 9 seat even though it does not include his home in Cabarrus County. Unlike most races, congressional candidates do not have to live in their districts.
Hudson could face a significant challenge, however. State Rep. John Szoka, a Cumberland County Republican, has said he plans to seek the seat as well, though he had not filed as of Friday afternoon. Szoka currently represents Cumberland County in state house District 45, and has served five terms in the General Assembly.
Charlotte businessman and former Army veteran Francisco Rios has also filed for the Republican nomination.
On the Democratic side, Alma Adams, who currently represents the Charlotte-centric District 12 in Congress, has filed for the 9th district, according to state records. If that holds up, and Hudson and Adams win their respective primaries, it could set up an expensive clash of two sitting Congressional representatives.
Closer to home, Moore County races have been active this campaign season. Specifically, the Moore County Board of Commissioners is facing huge turnover in December, with three of the five board members announcing they would not run for reelection. The fourth member, Louis Gregory, stepped down earlier this month for health reasons. His replacement will also be voted on in the upcoming primary and general election.
Several candidates have stepped up to fill those seats. Jim Von Canon is seeking the District 1 seat that will be vacated by Commissioner Catherine Graham, who is not seeking re-election. A Moore County native, Von Canon retired from a 28-year military career in 2018. He currently lives in Lakeview and is running as a Republican.
David McLean filed for election this week. He aims to compete for Graham's seat as well.
In the District 3 seat that will be vacated by Commissioner Otis Ritter, John Ritter is running his first local campaign. A practicing attorney in Seven Lakes, Ritter lives in the Westmoore community. He previously ran in the Republican primary for lieutenant governor in March 2020, finishing fourth out of a slate of nine candidates.
In addition, Kurt Cook, a Republican hailing from Aberdeen, is running for the District 5 seat currently held by Jerry Daeke. Daeke announced last fall he would not run for reelection in November.
Nick Picerno, who retired from the board in 2016, was named by the local Republican Party's Executive Committee last week to replace Gregory until an election in November can fill the seat until 2024, when Gregory's term was set to expire. Picerno served eight years on the board and currently sits on the N.C. Lottery Commission.
Picerno had planned to run for the redrawn state House District 78 but changed his mind after hearing of Gregory's resignation and the need to redraw districts.
Sheriff Ronnie Fields is currently the sole candidate for Moore County Sheriff. A Republican and longtime law officer, Fields is currently serving his first term after handily defeating opponents Steve Adams, a local businessman, and former sheriff Neil Godfrey in the 2018 election and 2018 primary, respectively.
In other local races, six candidates filed for one of three open seats on the Moore County Board of Education.
Helen Garner Maness, a retired educator who taught business education at North Moore High School for 20 years, is running in her first political campaign for the District 3 seat, currently held by Pam Thompson.
Shannon Davis is also running for the school board District 3 seat. A resident of Carthage and a Moore County native, Davis attended Calvary Christian School and has chosen to homeschool her three children.
Four candidates are seeking one of two at-large seats on the school board: Ken Benway, Pauline Bruno, Robin Calcutt and Rollie Sampson.
Benway retired from active duty in 1993 and settled in Whispering Pines in 2004.
Bruno is a Pinehurst resident who recently stepped down as chair of Moore Republican Women. Bruno is a former special education teacher with 21 years experience.
Robin Calcutt, a Moore County native and Pinecrest High School grad, is the current chair and professor in the education department at St. Andrews University in Laurinburg. She retired from Moore County Schools with 34 years experience as a teacher, assistant principal of Union Pines High School, principal of New Century Middle and West Pine Middle schools.
Rollie Sampson is also seeking one of two open at-large school board seats. She currently works for the district as its military liaison. An army veteran and military spouse, Sampson has lived in Moore County since 2005. Sampson is also a licensed mental health counselor and also works closely with school counselors to support military-connected students.
Other local candidates who have filed for office include:
District Court Judge District 19D: Three seats are available. Current candidates include incumbent judges Warren McSweeney and Regina M. Joe and Carthage attorney Beth Tanner.
Moore County Clerk of Superior Court: Chris Morgan, who has worked in the clerk's office for more than 20 years, has filed as a Republican. Current Clerk Susan Hicks is retiring in December.
Moore County Register of Deeds: Two Republicans, Bill Britton and Andrew Ritter, have filed for the chance to replace longtime Register of Deeds Judy Martin, who also is retiring this fall.