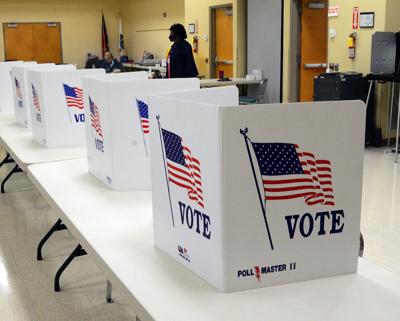 State lawmakers have just two weeks to come up with new political district maps after the North Carolina Supreme Court struck down the original documents in a 4-3 decision along party lines last Friday.
The four Democratic justices declared that the maps were unconstitutional and would lock in Republican majorities across the state despite the GOP representing no more than half the state's voters.
The Supreme Court last December delayed the primary election from March 8 to May 17 following legal challenges to the original districts. Justices will have just five days to make a final decision on the maps once Republican legislators submit them on Feb. 18. Candidate filing is set to resume Feb. 24.
Moore County's representatives, who all sit in the Republican majority, declined comment for now on what a new round of redistricting could mean for the county.
"I do know that we will be in Raleigh working on redistricting, and we've been advised by our council to just remain quiet right now," said State Rep. Jamie Boles, whose House district now includes much of Moore County.
For now, all parties appear to be trying to stick to a May 17 primary election. North Carolina Gov. Roy Cooper vetoed an attempt by Republican lawmakers recently to push back the primary date to June.
The maps that the court rejected Friday were drawn up by N.C. House Redistricting Committee and included a period for public input. Not surprisingly in a state with a long history of lawsuits over gerrymandering, the first legal challenges were issued within hours of voting. As approved, the maps were projected to give Republicans a 10-4 majority in its congressional delegation despite a nearly even ratio of registered voters between each major party. The GOP also would have retained its majorities in the State Senate and House under the rejected maps.
In their ruling Friday, justices said that the maps defied several provisions in the state's constitution dealing with free elections, freedom of speech and equal protections of citizens.
Republican leaders did not deny that the maps leaned in their favor. Instead, they argued that the constitution does not prohibit partisan advantage from being considered in map drawing. Republicans bolstered their case from a ruling by state trial judges last month. In that ruling, the judges admitted that the maps "are a result of intentional, pro-Republican partisan redistricting." However, they ultimately decided to uphold the maps on the grounds that it was not the place of the courts to interfere with the democratic legislative process.
The new maps would have brought substantive change for Moore County's representation in the General Assembly.
In the state Senate, instead of being connected with Randolph or Richmond counties as in past years, the new district map connected Moore with large parts of Cumberland County to the east.
Current State Sen. Tom McInnis, who lived in Richmond County near Ellerbe, moved to a home in Pinehurst so he could keep Moore County as his district.
In the House, most of Moore previously fell within House District 52. Just a small portion of the county rested within District 78, which took in much of Randolph County and was represented by Rep. Allen McNeill.
Under the new districts, Moore County would have been cut into three house districts: 78, 51 and 52. However, the boundaries for District 52 would have been substantially changed to include all of Richmond County, putting Boles in a so-called "double-bunked position" with another incumbent, Rep. Ben Moss, of Rockingham. Both men have filed to run for the District 52 seat.
The changes won't affect McNeill personally — he announced last December he was retiring — but a redrawn District 78 took in much more of Moore County and includes Pinehurst, Seven Lakes and large swaths of southern and western Moore. House District 51, currently represented by Republican Rep. John Sauls of Sanford, would include northeastern Moore but be a Lee County-centric district.
In addition to those changes, the rejected redistricting maps reunited Moore County into one congressional district. It most recently was divided almost in half between U.S. House Districts 8 and 9. Under the new map, it would be included all in District 8. Republican U.S. Rep. Dan Bishop, who currently represents District 9, has indicated he will file for District 8.
In its ruling Friday, the state Supreme Court did not specify which districts needed to be changed or produce clear standards on the revision.
"At this point in time, I don't think anybody's been given any clarification from the court so maybe we'll have something by the end of the week," Boles said.