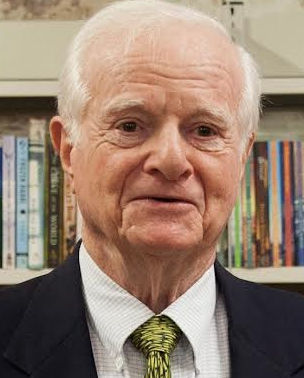 Paul Richard Dunn, of Pinehurst, passed away Friday, Feb. 25, 2022, in his home, surrounded by his loving family. He was born Oct. 10, 1928, in East Orange, N.J., and spent his happy childhood in Oceanside, Long Island, N.Y. His parents were Paul Francis Dunn and Audrey Beatrice Hanser Dunn,
He is survived by his sister, Sheila Audrey Dunn, of Stonybrook, N.Y. He married Kathleen McCabe and they had 10 children, Claudia Miller, David Dunn, Susan Di Fonzo, Eileen Wheaton, Kevin Dunn, Jeannette Kendall, Matthew Dunn, Patrick Dunn, Dr. Timothy Dunn and Elizabeth Dunn. He leaves 65 descendants, including 10 children, 23 grandchildren, and 30 great-grandchildren; and two great-great-grandchildren. Kathleen Dunn died in 2013. Paul married Betty Jane (B.J.) Dunn, of Great Neck, N.Y., in 1991, and they were happily married until her death in 2015. Paul maintained a strong bond with B.J.'s children, Rex Duval and Melissa Gray. His close companion since 2017 was Jo Ann Duncan, of Pinehurst, with whom he enjoyed golf, scrabble, cultural events and her excellent cooking.
Paul attended Oceanside's public schools and enlisted in the U.S. Navy, serving as a yeoman from 1946 to 1948 on the U.S.S. Montauk and the U.S.S. Nueces, finishing his naval career at Green Cove Springs, Fla., decommissioning some of the 500 ships of the "Moth Ball" fleet that had served in World War II. He founded and was editor of Around Town, a local newspaper.
In 1954, Paul graduated from St. John's University College, Brooklyn, N.Y., and attended its law school. Paul was always proud of his Dutch ancestry. His relative Pieter Claesen Wyckoff arrived at New Amsterdam on April 7, 1637, on the ship Rensselaerswick. He superintended the Bowery and the sheep of Peter Stuyvesant and later built his home on Canarsie Lane in Flatlands, Brooklyn. The Wyckoff Homestead still stands and is open to the public. Volunteers in Dutch costumes teach early New York history to visitors.
While attending college, at night, Paul was a copywriter for the Donahue and Coe Advertising Agency, located in Rockefeller Center, Manhattan. There he was account executive for the Radio City Music Hall. He later joined the Fleischann division of Standard Brands, as a sales promotion manager, and left to become the advertising and public relations director of the Mohican Company, of New England. He then moved to Bucks County, Pa., to serve as promotion manager and later director of bakery operations for the Penn Fruit Company, of Philadelphia. He left in 1962 to join Good Housekeeping Magazine as marketing director and, later, advertising director of Buenhogar Con Good Housekeeping, with offices in Lima, San Juan, Caracas, Bogota and Mexico City. In 1970 he became vice-president marketing of Compusamp Inc., an early computer marketing company. He then spent 14 years as president of G.R.I. Marketing Services and SAVE, The Shoppers Association for Values and Economy. Before retirement he was a sales executive with Tradewell and Active Media, in New York, and a founding member of Nautilus Wear International.
He and B.J. Dunn moved to Pinehurst in 1999, where he volunteered as historian of the Newcomers Club and served for five years as historian of the Pinehurst Golf and Country Club. In 2003, Paul and B.J. designed and marketed a pocket watch which honored the 100th Anniversary of the First Flight to the Wright Brothers. His high interest in golf and Donald Ross, the famed golf course architect, led him and B.J. to co-author "Great Donald Ross Golf Courses You Can Play" in 2001, and a second edition in 2017. Both books describe all Donald Ross golf courses open to public play in America. For many years, Paul managed the Titanium Whistles golf group, which he called the "poor man's Tin Whistles." He greatly enjoyed the good company and sportsmanship every Tuesday morning of good weather.
Paul was a Democrat and ran for public office four times. He was elected to the Ramsey, N.J. council winning in a town that had voted overwhelmingly for Republican Barry Goldwater. He was one of the first elected officials in the state to call for President Richard Nixon's impeachment. Three years later he ran for freeholder of Bergen County, N.J., and lost by 200 votes out of a total of 235,000 cast. The governor appointed him to the Board of Governors of Bergen Pines County Hospital, and he also served as a director of the Multiple Sclerosis Society of Bergen County.
In Moore County, he ran for the Pinehurst Village Council and a seat as a county commissioner, losing both times. He was always proud of the fact that when he ran for council, he had spent $600 and gotten 600 votes.
He enjoyed singing with the Golf Capital Chorus and choir of the Congregational Church of Pinehurst. He contributed op-ed articles to The New York Times and for 20 years columns in The Pilot newspaper, of Southern Pines. He recently authored and published "The Secret War Diaries of Abraham Lincoln – Including His Recurring Dreams," a four-volume work. He enjoyed giving talks on the religious views of Abraham Lincoln to local church and civic club audiences.
In lieu of flowers, please consider donating to First Tee of the Sandhills, firstteesandhills.org or call (910) 255-3035.
Online condolences may be left at www.bolesfuneralhome.com.
Services are entrusted to Boles Funeral Home of Pinehurst.