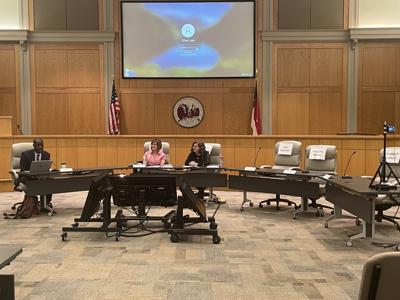 The only scheduled public forum in advance of the upcoming Moore County Board of Education primary went off on Thursday with less than half the candidates participating.
Three seats are up for grabs this year in an election that has the potential to flip the political makeup of the board. Since the 2020 election, many high-profile votes on issues like masking, Critical Race Theory and controversial library books have fallen 4-to-3, with the three newest members of the board opposed to the established majority.
Neither of the incumbent board members serving in the board's two at-large seats, Libby Carter and Ed Dennison, filed for re-election. Five newcomers have filed for those seats — Ken Benway of Whispering Pines, Pauline Bruno of Pinehurst, Robin Calcutt and Rollie Sampson of Southern Pines, and Forrest Leach of Seven Lakes — triggering a primary to pare the field down to four.
All five had originally agreed to appear at Pinehurst's Village Hall on Thursday in a forum organized by the Moore County NAACP and Public School Advocates. The forum was promoted with the League of Women Voters of Moore County, which routinely organizes forums for general and non-partisan races, as a co-sponsor.
Peggy Crawford of the League of Women Voters initially took the lead in organizing the forum and communicating with candidates.
After the forum was publicized as involving all five at-large candidates, Leach, then Bruno and Benway, withdrew. Crawford said they did not offer an alternative date.
"We went back to the group, talked about it and reached out to the three candidates to ask if there was something we could do that would encourage them to come," Crawford said.
"They said they were pretty much booked between now and when early voting began."
Although the school board race is nonpartisan, the Moore County Republican Party is supporting Benway and Bruno, although Leach and Calcutt are also Republicans. The local GOP also endorsed the board's three newest members in 2020.
Crawford said that the League of Women Voters withdrew its sponsorship of the forum after conferring with the state-level organization. Policies of the League, which is nonpartisan, dictate that the group can't hold a forum without the majority of candidates.
That left Thursday's forum to go forward with Calcutt and Sampson. Terrance Ruth, a social work professor at N.C. State University and candidate for mayor of Raleigh, moderated.
Both Calcutt and Sampson have spent time as district employees. Calcutt, a Moore County native, worked for Moore County Schools for 34 years before retiring in 2018. During her tenure she taught at Union Pines and served as principal at New Century and West Pine middle schools before being promoted to district director for planning, accountability and research.
Calcutt is now a professor and chair of the education department at St. Andrews University in Laurinburg.
Sampson moved to Moore County in 2005 with her husband's Army career. A veteran herself, she has served as a teacher in Moore County Schools and became the district's first military family liaison in 2017. She has served in that position while earning a master's degree in counseling. The district is working toward replacing her before the general election.
Both candidates shared similar perspectives on issues facing public education: from ballooning class sizes in fourth grade and up to Moore County Schools' persistent problems running reliable bus routes.
Many of those problems boil down to the same root cause: lack of funding to attract and keep employees. Sampson, whose children graduated from Pinecrest, said she's running to address those systemic problems that affect the experiences that all children, not just those connected to the military, have in school.
"I've experienced every budget cut as a parent with a child in the school. I'm tired of seeing that happen," she said. "I'm not running for the board of ed because of that position; I'm running as a parent who's concerned about the future of our schools."
When it comes to filling empty teaching positions while simultaneously building a staff whose demographics more closely resemble the students that they teach, Calcutt and Sampson said they would both explore building incentives for high school students to study education and return to Moore County Schools to teach, and to help members of the district's more diverse support staff qualify to teach.
But they said the district can't do any of that without more funding from the state and county. State funding hasn't kept pace with increases in teacher salaries or the district's enrollment growth over the last decade. The school board has long since cut popular programs like International Baccalaureate at Pinecrest, Spanish immersion at West End Elementary, and year-round calendars at four elementary schools.
The school board's current budget request to the Moore County Board of Commissioners seeks to gain back from the most recent round of budget cuts in 2018 — when 15 teaching positions were cut — and to increase pay for support staff like custodians, cafeteria workers and teacher assistants.
"I do recognize and appreciate the county commissioners and their role, but I believe that if we're going to have the Moore County that we want, we have to be fully funded with our budget," said Calcutt.
"I was really excited to see the 7-0 budget approval from our current board. That was a good sign. I think if we're going to stay innovative and competitive and make sure that our students have access to what they need for their futures, then we have to fully fund it. Our people are not asking for fluff: they're asking for what we need to do the job of educating our students."
In the last few years Moore County Schools' student test scores have come under closer scrutiny. Proficiency rates vary by school, but schools serving a significant population of economically disadvantaged students tend to have higher proportions of students who read and do math below grade level.
Both Calcutt and Sampson said that expanding preschool access would go far toward providing a more level playing field for students when they enter kindergarten. Sampson is also a proponent of hiring more teaching assistants for the lower grades so that struggling students can receive more individualized attention.
"If we really want to see better outcomes and scores in those lower grades for our at-risk students, then we put the resources back in the classroom that we know they need," she said. "We all know it, yet we're not doing it and we haven't done it for a decade."
When asked how they would handle challenges to controversial content, like the recent challenge to the children's novel "George" at Union Pines and McDeeds Creek Elementary, both Calcutt and Sampson said they would support the decision of school staff and the districtwide committees assembled to evaluate those challenges.
Calcutt said that keeping the best teachers in the district requires a culture of respect for them as licensed professionals. She hopes to be elected to a school board that embraces a culture based on pursuing what's best for students rather than scoring political points.
"That culture means a lot, and I want to say, right now, that it's going to take the community. It can't just be the Board of Education members doing this work," she said.
"It's got to come from each one of us. … If we want our schools to be successful, then we have to step up and let everyone know that we want a culture that cares and wants to have the best education possible for the children of Moore County."