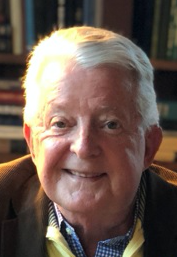 Richard Lane Brown III (Lane) passed away Friday, May 20, 2022, in Pinehurst, at the age of 81, after a short illness. He had led a long life dedicated to family and public service.
Born Oct. 3, 1940, in Albemarle, Lane was the son of the late Richard Lane Brown Jr. and Charlotte Palmer Brown. He graduated with a B.S. in business administration (1963) and Juris Doctor degree (1965) from the University of North Carolina at Chapel Hill.
Lane was elected to the North Carolina State Legislature in 1970, where he served three terms representing Stanly County, and led key statewide educational reforms. His proudest achievements were securing 1971 legislative approval for Stanly Technical Institute (now Stanly Community College) and authoring the state's 1973 kindergarten bill. Education was a key focus of both his public service and family life.
He enjoyed traveling with family and visiting historic sites and reenactments. He remained engaged in politics and was an active member of the Emmanuel Episcopal Church choir.
He is survived by his wife, Vicki Fesperman; other survivors include his daughter, Berit Alworth (Cameron); and three grandsons, Jack, Duncan and Elliot; son, Kirk Brown; son, Taylor Brown; daughter, Asheton Brown; sister, Virginia Ingram; and brother, Charles Brown.
A memorial service to celebrate his life will be held at the Palmerville Baptist Church, in Badin, at 1 p.m., Tuesday, May 24, for family and close friends.
In lieu of flowers, the family requests donations be made to the Brown/Fesperman Children's Fund at Crossnore School and Children's Home, P.O. Box 249, Crossnore, NC 28616; the Music Fund at Emmanuel Episcopal Church, 350 E. Massachusetts Ave., Southern Pines NC 28387; or to Friends of Palmerville Cemetery, 27212 Hedge Road, Albemarle NC 28001.