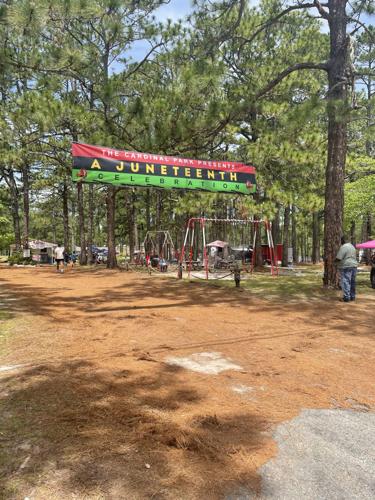 The entrance to Cardinal Park during its second annual Juneteenth celebration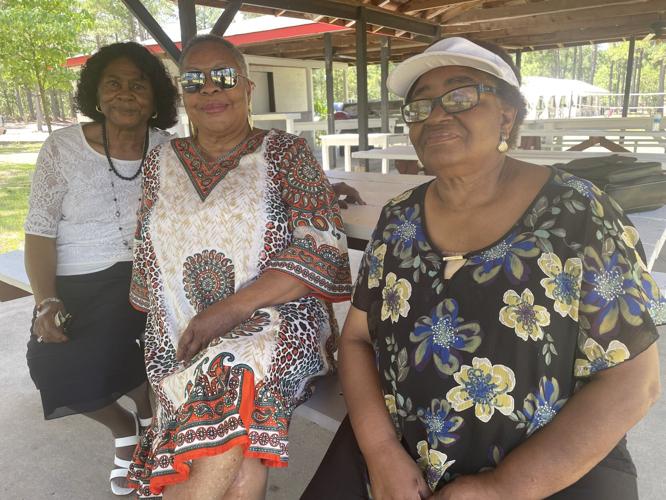 Ida Murray of Aberdeen, Margaret McKayhan and Jocelyn Jones of Southern Pines stopped by after church to celebrate.
With funk hits rolling over the grounds, visitors relaxing in the shade of the tall pine trees and children splashing in the lake, and food trucks serving barbecue chicken and pizza, festivity was in the air Sunday afternoon at Cardinal Park.
For many of the people from around Moore County who attended the Pinebluff park's second annual Juneteenth event, the celebration was twofold.
Not only did they commemorate the day in 1865 when Union troops reached Galveston, Texas and enforced the emancipation of 250,000 enslaved African-Americans. That day came more than two months after the end of the Civil War, and two-and-a-half years after the Emancipation Proclamation signed by President Abraham Lincoln took effect.
A century and a half later, those of all races observing Juneteenth did so as they also embraced more recent recognition of that milestone for Black freedom as a watershed moment in American history.
"This is like a second Independence Day," said Quatiesha Solomon.
Last year, President Joe Biden signed into law national observance of Juneteenth as a federal holiday. The holiday recognizes a historical event, but it's also symbolic of Black Americans' struggle toward emancipation, civil rights and equality under the law.
"We had Black History Month and Martin Luther King Day, but not really something to celebrate freedom, to celebrate us as a people," Juanita Solomon said.
As visitors trickled into Cardinal Park on Saturday afternoon, pitching shade tents under the tall pines around the lake, Christopher Capel was reminded of his childhood. Capel's grandfather Felton Capel established the park in 1962 for underprivileged children — but it soon became a gathering place for the entire Black community, who had few options for recreation in a segregated county. His father, Mitch Capel, now manages the park after reopening it in 2019.
In his role as a vice president with a nonprofit dropout prevention program in Charlotte, Christopher Capel has observed how awareness of Juneteenth has entered the wider corporate and popular culture.
"I knew what Juneteenth was, many of my colleagues did not. That's of any race. I grew up in an environment where this was a part of my life," he said. "I knew about it because of my father, he's a history buff, and because of my grandfather. But it wasn't taught in my schools, any of them."
Lincoln and the Emancipation Proclamation are key components of U.S. history curricula. But the millions of enslaved people who waited years for the promise of freedom to be fulfilled, the history of Juneteenth, usually isn't included. Chattel slavery in the United States did not formally end until Dec. 6, 1865 with ratification of the Thirteenth Amerndment.
"Particularly in my organization there's some education around what Juneteenth is, and the purpose of it, that it's not just another day off," said Capel.
Margaret McKayhan of Southern Pines has noticed the proliferation of Juneteenth celebrations in the last few years along with wider observation of the holiday. She hopes it will enhance the sense of shared history among Black Americans.
"In unity there is strength," she said. "Hopefully something like Juneteenth will make us stronger so that whatever else is going on out there we can face it together."