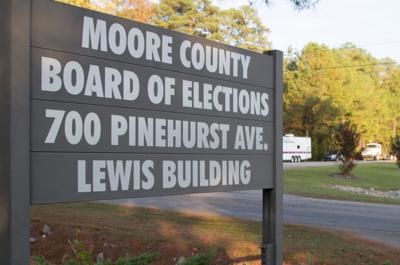 With less than four months to go before the general election, the Moore County Board of Elections was busy making preparations at its most recent meeting Thursday.
While a discussion of early voting yielded no definitive scheduling or location changes, the board did make some adjustments to day-of polling places at the meeting. Namely, they voted to change the Cameron precinct from the Cameron Elementary School gymnasium to Cameron Methodist Church, about a mile down the road.
The change, though not yet final, comes after logistical problems have been reported at the polling site in recent elections, Board of Elections Director Towanna Dixon said. The most substantial issues have been with parking and traffic because the school drop-off llane is also utilized by voters.
Election Services Manager Anne Marie Brown said that there is also "very little" parking for voters at the current polling. Voters share a parking lot with poll workers and school staff. Another issue is that poll workers often have to cope with a lack of air-conditioning and heating in the gym, which can be uncomfortable during 15 hour shifts. She said the church offers solutions to these issues and is accessible.
"We both feel it would be a much more suitable location for both the voters and the poll workers," Brown said, speaking for herself and Dixon. The board agreed and voted to make the change.
The Board of Elections office has also gotten approval from the Board of Commissioners to hire a new staff position for training and recruiting poll workers, Dixon said, which will help streamline communication throughout the election cycle.
One more change that voters can expect, at least in some precincts, is new signs to mark the polling places. Dixon said there had been some issues with people not seeing the signs during the primary, so the update aims to address this confusion.
The new signs are 10 feet long. For now, they will be going to precincts with past visibility difficulties, such as Seven Lakes and West End, but Dixon said the goal is to eventually put them in every polling site.
"In West End, if you put in the (precinct's) GPS coordinates it takes you to a dead-end street," Dixon said. "So we don't want people wasting time trying to find a location. We need to put the signs out there and get them to where they need to be."