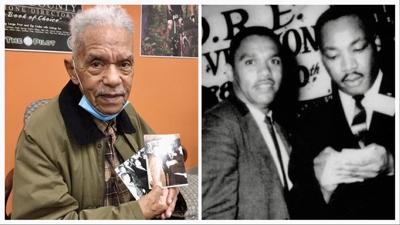 Herman Thompson, a trail-blazing Southern Pines lawyer who received advice from the Rev. Martin Luther King Jr. as a young Civil Rights organizer, has died. He was 91.
For many years, Thompson was the only Black lawyer in Moore County. He grew up in Missouri and became involved with the St. Louis chapter of the NAACP and the Congress of Racial Equality in the 1960s.
Two days after King delivered his immortal "I Have a Dream" speech on the steps of the Lincoln Memorial in 1963, Thompson participated in a series of protests against discriminatory hiring practices at a St. Louis bank. Thompson was later sentenced to 60 days in jail and fined $500 for his role in the demonstrations.
He would spend only a couple weeks behind bars before the conviction was overturned by an appellate court. The following year, he met King during a CORE convention in Miami.
"I started talking to him in general about the Civil Rights struggle in St. Louis," Thompson recalled in a 2019 interview with The Pilot. "He listened and gave me some advice about how things should be done. He gave us some strategies and techniques that we could use, but the main thing he stressed was that we should be non-violent."
The two men crossed paths again while Thompson was working toward his law degree at Howard University in 1968. King was assassinated shortly after their second meeting.
"After hearing on my car radio that he had been shot, I went inside to tell my professor and he stopped his class," Thompson told The Pilot. "It was devastating. You didn't want to eat, sleep or do anything. It just kind of made you numb."
Thompson graduated from Howard and went on to practice law in Nebraska and Charlotte before settling in Southern Pines, where he operated out of offices on Gaines and Bennett streets. O'Linda Watkins-McSurely, president of the Moore County NAACP, said he was "very much a community supporter."
"He was a great leader as far as supporting the NAACP," Watkins-McSurely said in a phone interview on Sunday. "Any time the NAACP needed some financial support, he was right there for us. He really believed in justice and equality for everybody."
Thompson was also a veteran of the U.S. Army. He spoke to members of American Legion Post 177 this spring about his experience in the military.
"I gave Herman the floor and I had to get him off the stage because he kept going on and on about every war story he could think of," Vincent Gordon, commander of the post, recalled with a chuckle. "But that was just how he was. He told some jokes — some old military jokes that we can't repeat — and had us all laughing like crazy. He brought a beam of light to our post, and we enjoyed him tremendously."
Gordon added that Thompson was "a very honorable man with a rich life history."
The sentiment was echoed by Chris Thomas, a barber at Blendz Barbershop in Southern Pines who cut Thompson's hair for more than a decade. Thompson was affectionately known among the shop's staff as "Uncle Herm."
"He was a legend to us," Thomas said. "He was a pillar of the community."
Thompson had an energetic presence that often belied his advanced age, according to Thomas.
"He always kept his energy up," he said. "When people found out he was 91 years old, they couldn't believe it because he didn't look his age and he was so upbeat."
Thomas said Thompson "loved giving back" to children in the community, and would "encourage the kids to be whatever they wanted to be."
"He used to come into the barbershop and give the kids a gold dollar or a dollar bill," Thomas said. "As the kids grew older, they would sometimes see him and say, 'Do you remember giving me a dollar?' He'd always remember them."
In an interview with The Pilot last year, Thompson reflected on his role in the Civil Rights movement.
"I am proud of my part in the Civil Rights fight," he said at the time. "I am glad I participated and I am glad that things did get better."