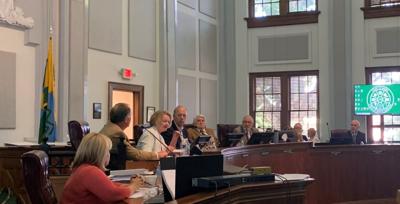 In a break from its scheduled agenda, the Moore County Board of Commissioners voted 4-1 Tuesday not to take up a "pro-life resolution" that Commissioner Nick Picerno had requested be drafted.
Commissioner Catherine Graham proposed setting aside the resolution at the start of the meeting, arguing that it wasn't fair to saddle a future board with an official opinion on the matter when it is expected to be taken up by the state legislature next year. At least three of the five board members will switch out, including Graham, after November's election.
"I think this board needs to remember that this resolution depends on at least three commissioners sitting on a board who will not be here when this measure is taken up in Raleigh next year," Graham said in the lead up to her motion. She also emphasized that the county's state representatives will be different in January, and the county's stance — as represented by the draft resolution — only reflects the "personal opinions" of the current commissioners. It would have no force of law.
"Given all that and the controversial nature of this issue, I believe any issue regarding this matter should come from a current sitting board with their personal opinions, and they should not be required to work with legislation in Raleigh on (this board's) personal opinions," Graham said.
In comments at the end of the meeting, Picerno, who sponsored the resolution and was the sole vote to keep the item on the agenda, said he had presented it at the encouragement of Moore County citizens and did not mean for it to be used as "name recognition" in Raleigh.
"This was not an issue that we just wanted to bring up to get attention," Picerno said.
The text of the proposed resolution would have put the Board of Commissioners on record supporting the belief that the protection of human life begins at conception. It called out "the inherent dignity of all human beings including the preborn from conception to birth."
Abortion generally remains legal in North Carolina up to 20 weeks. Legislative leaders have said that bills restricting access would likely be expected in the new year, though they have not indicated what proposals would be considered.
Moore County's resolution Tuesday would have put the board on record as supporting the U.S. Supreme Court's decision earlier this summer in the case of Dobbs v. Jackson Women's Health Organization.
"The Moore County Board of Commissioners requests the NC General Assembly to pass new legislation concerning abortions in this State consistent with Section 1 of this Resolution," the resolution stated.
It went on to read, "The Moore County Board of Commissioners supports public input from citizens, churches, and other social organizations that may help determine possible measures that religious organizations and nonprofits can adopt to provide spiritual, emotional, educational and financial support for mothers and fathers of preborn children and to become a county that truly welcomes and protects the gift of life from conception or fertilization through all stages of development."
At least 50 people turned out for the meeting, with the room split between abortion-rights supporters and anti-abortion supporters. As demonstrated by the public comment period after the vote, public opinion on the board's decision was mixed.
Those in the audience who had favored the resolution expressed disappointment. Among them were two staff members of the Calvary Christian School, who had also brought their morning classes to the meeting.
"By removing this resolution, you have taken the path of politicians instead of statesmen and stateswomen that is so desperately needed in this time," said Charles Garrison, pastor of the school's Calvary Memorial Church. "You violated your oath to the Constitution of the United States."
Those who had opposed the resolution continued to voice their opposition to it during the public comment period, arguing that it had distracted from "more important" issues at hand and allocated taxpayer dollars in a way that did not align with the interests of all Moore County citizens.
Many had advocated prior to the meeting that a public hearing should be held if such a resolution was to be considered in earnest.
Some celebrated the board's decision to remove the resolution.
"The world may be going to hell in a handbasket, but not in my backyard," said Ginger Derrick Macdonald. "My community is beautiful. It is full of kind people … if we create a little civil war inbetween neighbors, that's stupid — that is not going to cause our family to grow. We need to grow smart."
Graham clarified that her "personal opinion" on the resolution had not changed because of its removal from the agenda and she still opposed abortion. She said the board overall took an anti-abortion stance.