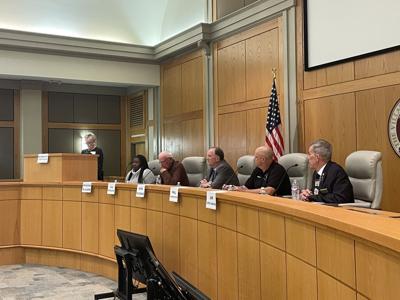 While two seats on the Moore County Board of Commissioners will pass to new representatives without contest in the general election, five candidates are competing for a place at the table when the county plans for its next phase of population growth.
They all discussed how they would approach that issue during a Tuesday evening forum hosted by the League of Women Voters of Moore County and Moore County NAACP.
Ariadne DeGarr is challenging Nick Picerno for the District 2 seat vacated with the death of Louis Gregory earlier this year. The sitting commissioners appointed Picerno, who previously served two terms as a commissioner, to serve temporarily. The winner in November will serve for two years before the seat is up for re-election again.
"I continue to get a little nervous that we have potentially four commissioners turning over at this time, so there would be a big gap as far as experience," said Picerno. "My plea to you is please re-elect me for two years and let my experience work for you."
Another three candidates are vying to replace retiring Commissioner Catherine Graham in the District 1 seat: John Misiaszek, Phil Vandercook and Jim Von Canon. Misiaszek and Vandercook each submitted more than 2,900 valid signatures for a place on the ballot as unaffiliated candidates to challenge Von Canon, who won a three-way Republican primary this spring.
Jo Nicholas, president of the League of Women Voters of North Carolina and a Moore County resident, moderated Tuesday's forum — in which topics like growth, infrastructure and industry prevailed.
Both DeGarr and Misiaszek said that as commissioners they would take a reserved approach to residential growth. DeGarr is in favor of prioritizing the infrastructure and services to support a larger population, as well as finding a revenue-generating industry other than golf tourism. Misiaszek characterized residential growth as "nearly a given" that needs to be offset by industrial and commercial development to boost the county's property tax base.
"The development of at least one, probably two, industrial parks in Moore County would enable us to be in a position to take advantage of the ancillary companies that will develop from those industrial developments taking place in Chatham and Randolph counties," said Misiaszek.
"We need that industrial development to balance the residential development that's taking place here in Moore County."
All five candidates agreed that expanded water and sewer service — and bringing new water sources online — are among the county's most pressing infrastructure needs. Planning them will involve Moore County's municipalities, both in the interest of minimizing sprawl and laying the groundwork for a viable affordable housing market for working-class residents.
"We need to work with municipalities and get them to lower their footprint," said Von Canon. "They need to be able to buy houses that they can afford transportation, medical care and food as well. That needs to be near the city. We need zoning similar to RM-5 because that way you can have a house on an eighth of an acre."
DeGarr suggested that the county should do more, possibly exploring rural engagement and investment programs through the N.C. Department of Commerce, to protect the areas where lower-income and minority residents have historically lived from gentrification.
"I keep hearing this mention of preserving our history, which strikes a note with me because I'm not sure whose historic districts those are, but there's a lot of them that are not being preserved," she said.
"I would suggest that even though it's not part of the purview of the county commissioners, that we … partner with lower-income communities and help them improve their circumstances rather than preying upon them and their land."
Vandercook said that growth should be considered with the needs of the county's existing residents, business owners, and farmers as well as the environment in mind. To that end, he said discussions should involve as many parties as possible.
"Even within the municipalities they come up with a long-term plan and how they project growth," he said. "The one thing I don't see is how they plan on communicating with the community next to them, and how does that fit in with the county? So I'd like to see a continuation of that roundtable discussion."
Picerno described the process behind the county's most recent land use plan, which was adopted in 2013 when he was the commissioners' chairman as fitting that description. The county is now working to update that plan.
"We had probably a cross-section of everyone that's in this room: we had Democrats, Republicans, farmers, business owners and everyone from all areas of our county to come and serve," he said. "It took us a bunch of meetings, a lot of fussing and fighting, but at the end we came up with a great plan to keep the rural integrity of Moore County."
He went on to say that infrastructure planning will to some extent determine where and how much growth comes to Moore County.
"I'm going to tell you, from just personal experience, the more rules and regulations we put in place it will help slow that growth," said Picerno. "Unfortunately, sometimes government is the problem, not the solution."
Vandercook also said that he would support working with other counties to come up with regional infrastructure solutions. He predicted that a significant industrial presence, or even more individuals trading in their traditional vehicles for electric cars, could place an unprecedented drain on the county's power supply.
Misiaszek predicted that changes in Moore County's rural nature may be inevitable, and that it might be most economical to consolidate the various municipal water distribution and sewer systems into a single county system at some point.
"Another thing that I think we're probably heading toward is solar energy," he said. "Actually North Carolina ranks No. 4 in the country right now with solar. We should facilitate that here in Moore County."
Von Canon said that he isn't convinced that Moore County can't flourish in a continued pattern of primarily residential growth.
"I don't know that we've got to bring industry in here to survive. We've got a pretty good, pleasant place to live," he said. "Industry would be nice but we're going to continue to move on without it if we have to. Right now I think that we need to just be fiscally responsible."
As a veteran who spent significant time in the enlisted and officer ranks during his 30-year service career, and supported stabilization efforts downrange, Vandercook said that he's already familiar with how an organization like the county works.
"We were part of restoring security, restoring resources such as water, power, and sewer. We also helped facilitate building schools, giving opportunity to everyone, including young girls and women," he said. "All those skills directly translate to what a county commissioner must do. I don't need any coaching on the components of managing a complex staff, a large budget or expensive assets."
DeGarr said that she's running to serve Moore County residents who might not see their demographics or life experiences represented on the Board of Commissioners. If elected, she said that she would take a similar approach to evaluating candidates for the county's various appointed boards.
"I don't think the people that sit on the board for the Department of Social Services should never have had a social service rendered to them. It seems counterintuitive to me," she said. "I feel like we should find people that maybe have had those services in the past, know what that experience is like, and could help figure out better ways to render these services to their neighbors."
Early voting is underway through Nov. 5 at the Moore County Agricultural Center in Carthage and Pinehurst Community Center. Precincts will open countywide on Election Day, Nov. 8.